125kHz Em4100 Tk4100 Plastic RFID Keyfob for Entrance guard (Tag-03)
---- RFID Card/RFID Bracelets/RFID Keyfobs Solution from 2001 -----
Company Profile:
Star Trend is a full-service provider and exporter of smart card, RFID card, RFID label, card raw material and accessories since 1999 in Shanghai, China. As a leading card provider with over 17 years export experience, Star Trend shipped millions of cards to more than 80 countries all around the world every year.
Our advantages:
Strict Quality Control: Our quality control and inspection system guarantees high quality roducts delivered to our customers.
Strong Technical Team: By working together with our customers, we integrate our RFID tags or other access products with their access systems perfectly.
Excellent Service: We have worked with quite a few distributors and customers more than 15 years.
Abundant export experience: 17 years of export experience helps our customers handle their shipments and relative financial affairs professionally.
Long Quality Guarantee: 2 years of quality guarantee upon of shipments received.
Products:
RFID radio frequency identification (RFID) is a non-contact automatic recognition technology. It automatically identifies target objects and obtains relevant data through radio frequency signals. The recognition work does not need manual intervention, and it can work in various harsh environments. RFID technology can identify high-speed moving objects and identify multiple electronic tags at the same time. The operation is fast and convenient.
RFID electronic tag technology is widely used, such as: Animal chip, door safety control, aviation parcel recognition, document tracking, package tracking identification, animal husbandry, logistics management, mobile commerce, product anti-counterfeiting, movement timing, ticket management, car chip burglar theft. Vehicle, parking lot control, production line automation, material management and so on.

Model No.: ST-Tag-03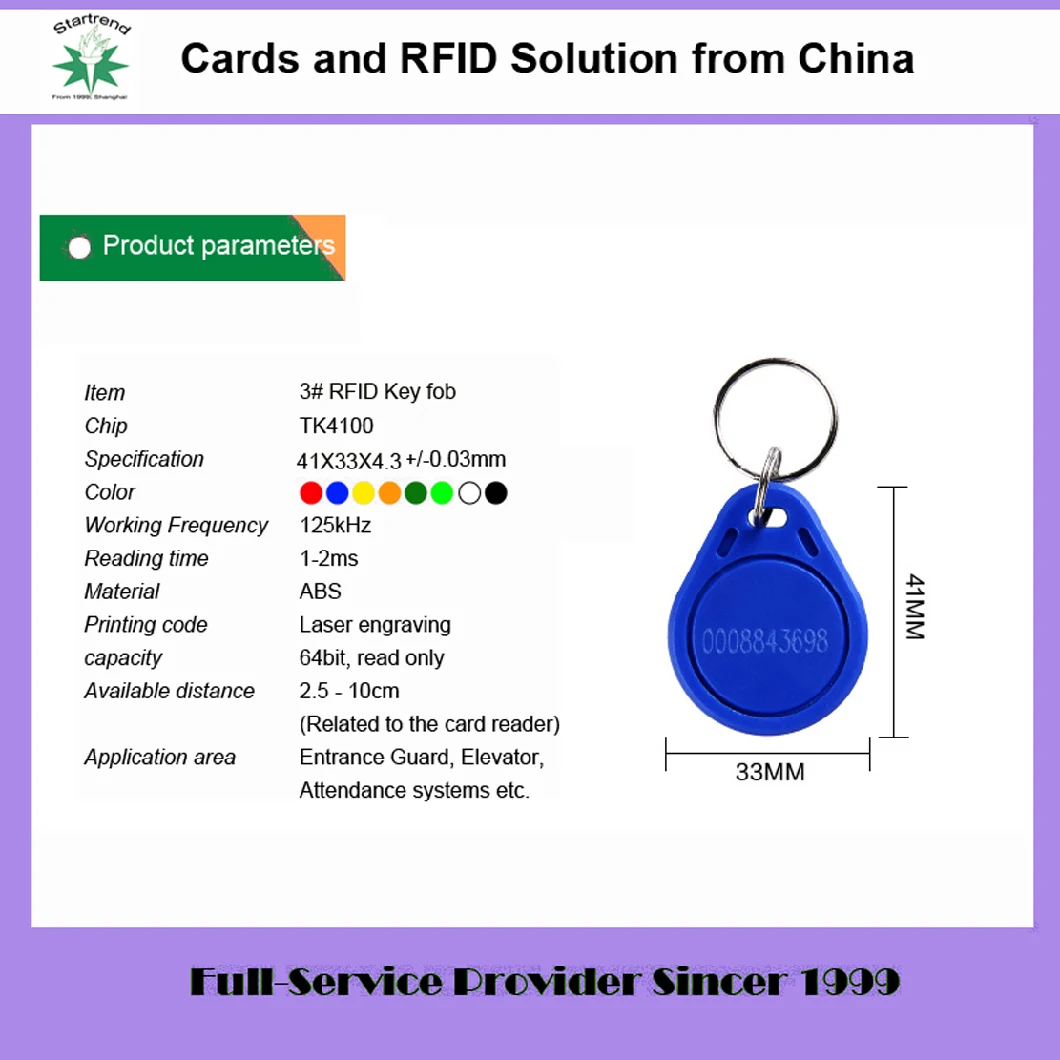 General description:
Advantages:
1. The chip is very small and convenient for transplantation.
2. The chip generally adopts the ordinary CMOS technology, which has the characteristics of power saving and low cost.
3. The working frequency is not restricted by radio frequency control. It can penetrate water, organic tissue, wood and so on;
4. It is suitable for close range, low speed, and less quantity application.
5. Good security and confidentiality, and each keyfob has a unique sequence number.
6. Application: Logistics, animal labels, anti-counterfelting, storage control, industrial automation.

Shortages:
The chip has less storage capacity and can only be applied to low speed and short distance identification applications.
Technical parameters
Frequency: 125kHZ
Available chips: Tk4100,Em4100,Em4305
Protocol: ISO14443A
Work Temp: -20ºC-50ºC
Data retain: >10 years
Read/Write: >1,000,000 times

Keyfob information:
Material: new ABS
Size: Different sizes for selection.
Color options: Blue, Red, Yellow etc. (Customized colors are available)
Printing Method: Silk screen printing
Personalization: UID/Number by laser engraving
Trademark: OEM

Package: 200pcs/bag, 5,000pcs/Carton
Origin: Shanghai, China
HS Code: 8523521000

Available crafts working on the keyfobs: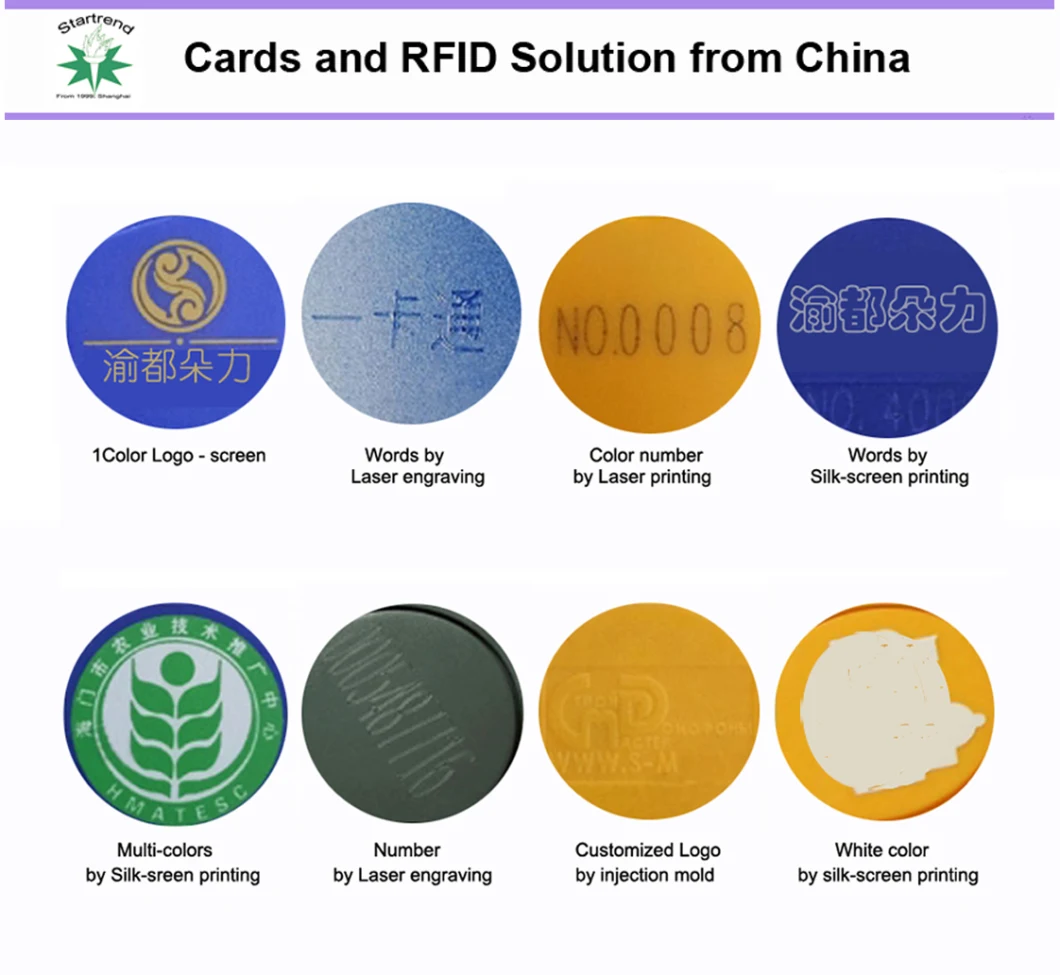 Basic RFID Tag - keyfobs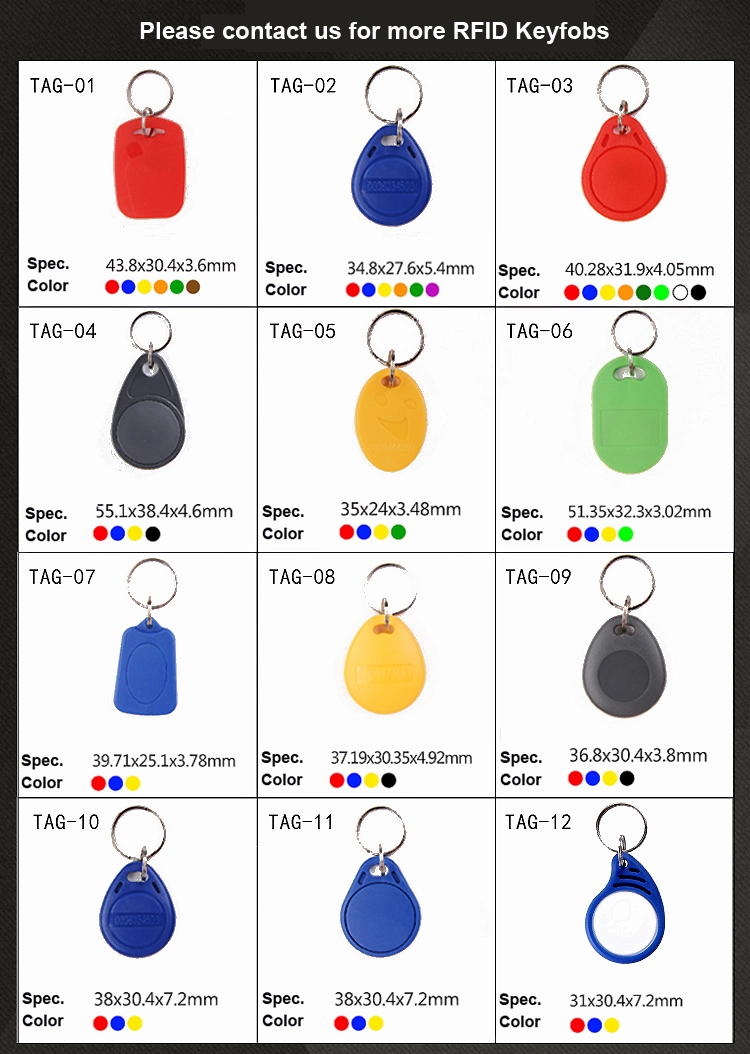 What Benefits from the RFID Cards/tags?
Short queuing time.

Preventing unauthorized access to restricted areas.

The RFID-based control system allows the event organizers to more closely regulate numbers and makes the event safer.

Collecting the useful information from the RFID cards holders and arranging the next event accordingly.

To achieve advertisement purpose by printing the logo on the RFID cards

A part of relative products
- PVC Cards, RFID Card, RFID Wristbands, RFID keyfob, Card Sleeve and Card holders etc.
Different types of PVC cards




RFID Silicone Wristbands
(bracelets)

Fabric woven Wristbands with RFID tag

PVC disposable RFID wristbands (bracelets)

ABS RFID keyfobs tags



Available Chips for RFID and NFC tags:
| | | | | | |
| --- | --- | --- | --- | --- | --- |
| Model | Frequency | Read/Write | Memory | Protocol | Brand |
| TK4100 | 125Khz | R/O | 64 bit | | Taiwan |
| EM4100/EM4102 | 125Khz | R/O | 64 bit | | EM |
| EM4200 | 125Khz | R/O | 64 bit | | EM |
| EM4550 | 125Khz | R/W | 1K bit | | EM |
| EM4069 | 125Khz | R/W | 128 bit | | EM |
| EM4305 | 125Khz | R/W | 512 bit | ISO11784/785 | EM |
| T5557 | 125Khz | R/W | 363 bit | ISO11784/785 | ATMEL |
| HITAG 1 | 125Khz | R/W | 2K bit | | NXP |
| HITAG 2 | 125Khz | R/W | 256 bit | ISO11784/785 | NXP |
| MIFARE mini | 13.56Mhz | R/W | 320 byte | ISO14443A | NXP |
| MIFARE Classic 1K | 13.56Mhz | R/W | 1K byte | ISO14443A | NXP |
| MIFARE Classic 4K | 13.56Mhz | R/W | 4k byte | ISO14443A | NXP |
| MIFAER Ultralight | 13.56Mhz | R/W | 512 bit | ISO14443A | NXP |
| MIFAER Ultralight C | 13.56Mhz | R/W | 1536 bit | ISO14443A | NXP |
| MIFARE Desfire EV1 2K | 13.56Mhz | R/W | 2K byte | ISO14443A | NXP |
| MIFARE Desfire EV1 4K | 13.56Mhz | R/W | 4K byte | ISO14443A | NXP |
| MIFARE Desfire EV1 8K | 13.56Mhz | R/W | 8K byte | ISO14443A | NXP |
| ICODE SLI | 13.56Mhz | R/W | 1024 bit | ISO14443A | NXP |
| ICODE SLI-L | 13.56Mhz | R/W | 512 bit | ISO14443A | NXP |
| ICODE SLI-S | 13.56Mhz | R/W | 2048 bit | ISO14443A | NXP |
| NTAG 213 | 13.56Mhz | R/W | 144 byte | ISO14443A | NXP |
| NTAG 215 | 13.56Mhz | R/W | 504 byte | ISO14443A | NXP |
| NTAG 216 | 13.56Mhz | R/W | 888 byte | ISO14443A | NXP |
Q & A

About card

What is the minimum order quantity?
We can print as few as 100 pcs per design.
However it's much better to get perfect printing if order qty is minimum 500 pcs per design.

How long will it take to deliver my order?
It depends on what you've ordered and the service you picked. Regardless of what you've ordered, all our work has a guaranteed turnaround time. Normally, it will take 10 days to finish 10,000 pieces basic RFID cards.

What are your RFID cards made from?
Our RFID cards are made from silicone, PVC, Nylon and other materials.

Can I see an actual cards with my design?
Yes, we have 7 day express service to make a sample for you. But prior to that, we need to work together to confirm the digital proof.

What is the procedure if I buy RFID cards from you?
RFQ - Quote - Artwork - Proof - Confirmation - Physical Sample (if needed) - Payment - Production - Delivery - After-sale service

About business

What makes you think you are better?
We know this business very well, STAR TREND possibly is one of the first batch of china cards and RFID cards distributor for overseas market.

We know you very well, we've been working with hundreds of importers, wholesalers and customers from 70 different countries and regions since 2001.

We know your concerns very well, about IPR (intellectual property protection), quality control, delivery schedule and after-sale service.

We know how to do to achieve your target - to make customer happy.

We know how to support you to make everything running smooth, to get repeat orders, to gain the bidding and to expand your business.

What kind of services can you offer besides card and RFID Wristbands production?
We'd like to provide our customer:
Artwork design and modification, at free.
Professional proposal of technology choices to fulfill customer's idea.
Flexible packing solutions to match customer's delivery request.
Reliable shipping solutions to reduce customer's cost with the fast delivery.
Follow up and after-sale service during production till the repeat order.
Proper stock for customer in order to save storage cost and accelerates delivery for repeat orders.
And further request from you.

When did you export the first product?
In 2001 we shipped the first magnetic stripe card to Norway. It's an access card for a zoo.

How long have you been working with the 1st customer?
We are pleased to serve all our customers as best as we can. The longest cooperation with our 1st customer has been 17years and we are confident to go ahead for another 17 years.

How many countries have you exported your RFID cards/RFID wristbands/RFID Keyfobs etc. since 1999?
We've exported our products to 70 countries and regions.

Who purchased the products from you?
Importers, distributors, wholesalers and/or the end customer directly purchased cards, RFID Wristbands, Key fobs and card holders etc. from us.

What international exhibitions did you attend?
Generally we attended