Economic Two Arms Welding Fume Eliminator For Two Welding Booths CE RoHS Certification
Product Introduction
1. Mobile welding fume extractor is suitable for the purification of fume and dust generated in all kinds of
welding, grinding and other places as well as for collecting rare metal particle and precious material.
2. Suction arm can be rotated by 360 °and can reach the position flexibly and easily by pulling the
handle on the hood and position in the absence of external force. Depending on needs, 2m, 3m
flexible suction arm are available.Suction arm uses high temperature resistant, flame retardant
and wearable composite material, it will not crack after burning through by spark and has a longe
usage life.
3. The filter cartridge of the welding fume extractor is made of imported filtering material of high filtration
precision and can filter out welding fume of 0.5μm. According to the extractor's work intensity and the
amount of dusts, the usage life of the filter cartridge is different.
4. Maintenance of the filter cartridge is clean and easy since operators are not exposed to airborne dust
from blowing the filers clean. The unit is designed to collect particles on the inside of the cartridge,
allowing operators to clean the filters with compressed air without creating a dust cloud in your facility.
5. The high suction and capture velocity developed by Kaisen allows high performance for extended production
runs and allows operators to capture and filter dust and fumes further away from the hood than competitive
models.
Technology parameter:
| | | |
| --- | --- | --- |
| No. | Item | Parameter |
| 1 | Fan type | centrifugal fan |
| 2 | Treatment of air flow | 2000±100 m3/h |
| 3 | Motor power | 2.2kW |
| 4 | Power supply | 380V ~/50Hz |
| 5 | Filtration area | 30 m2 |
| 6 | Number of filter cartridges | 1 piece |
| 7 | Filter medium | Nanometer fiber filter paper |
| 8 | Filtration efficiency | >99.9% |
| 9 | Noise | ≤74±5dB(A) |
| 10 | Ash hopper volume | 7L |
| 11 | One suction arm | 2 Pcs Ø160mm*3m |
| 12 | Weight (excluding suction arm) | 135±5KG |
| 13 | Dimensions(excluding suction arm) | 640×760×1320mm |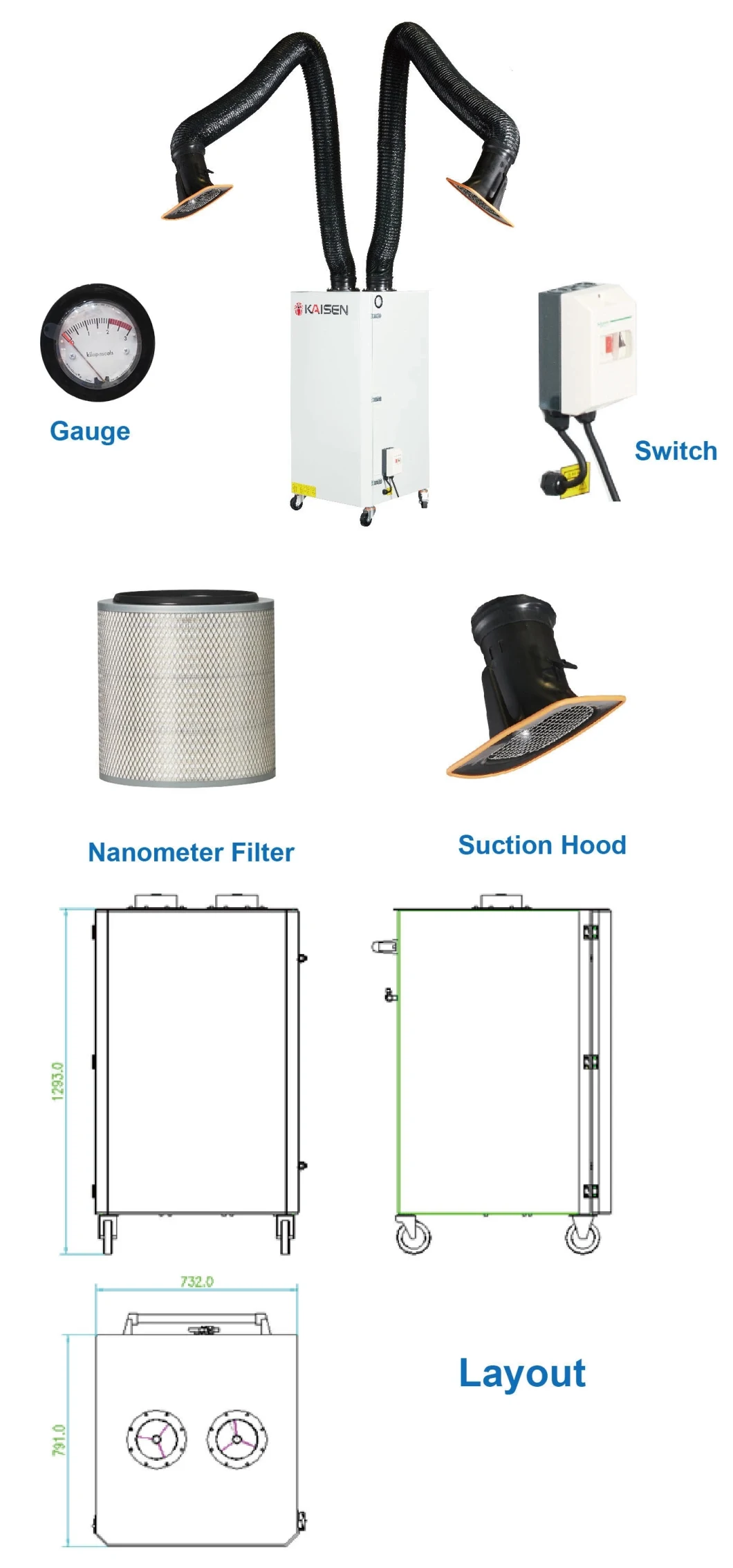 Company Information